Kilo Gipsyska
(2015)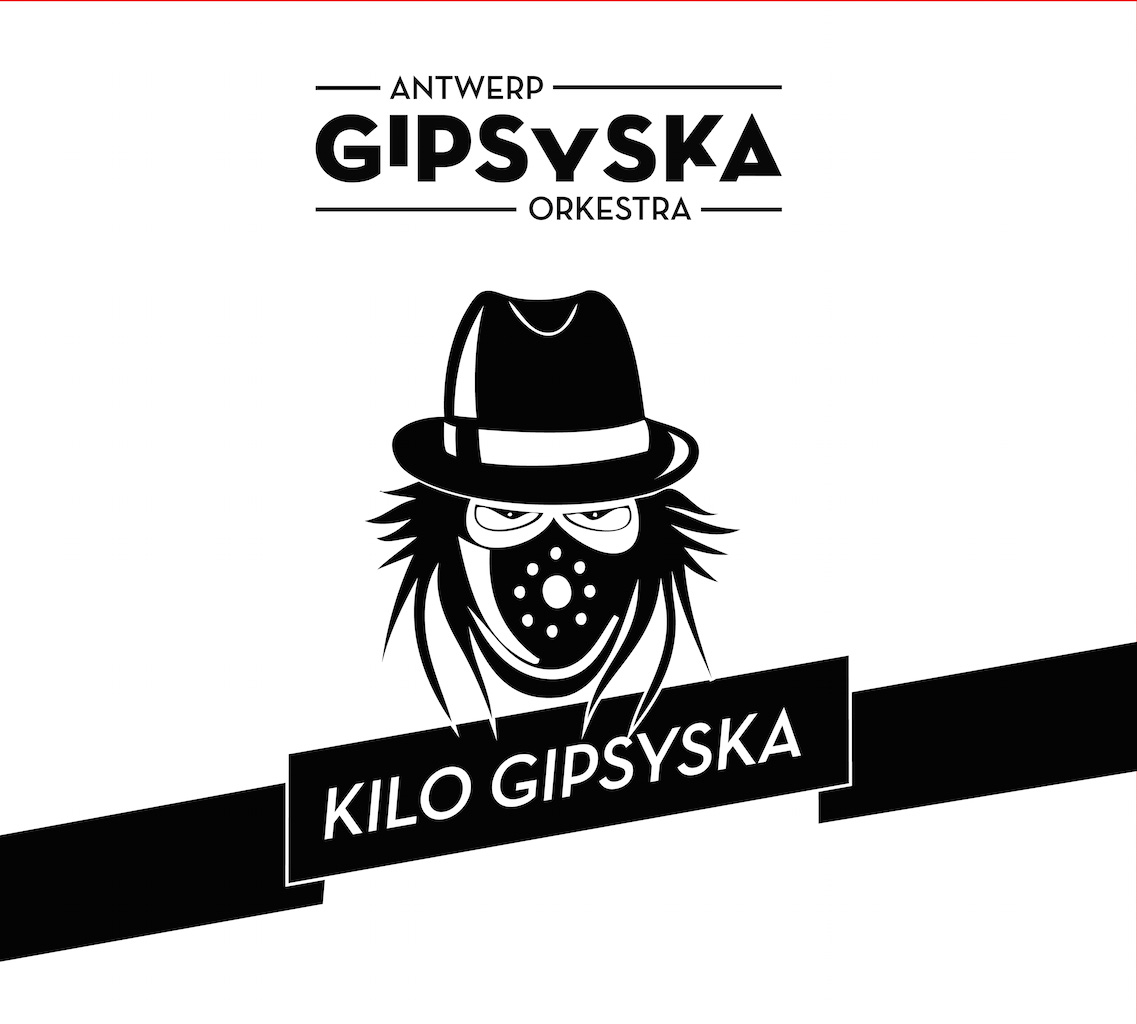 A steamy brew of Eastern European gipsy music and Jamaican ska, seasoned with a rebellious spirit? That has been Antwerp Gipsy-Ska Orkestra's trademark for the last decade. The trailblazing band now finishes it off with Kilo Gipsyska, their third album. Following Tuttilegal (2007) and I Lumia Mo Kher (2011), this one really accentuates these musical globetrotters' pioneering role.
Guitarist Mukti Gabriels explains : "In Romanes, the Roma gipsies' language, the unit kilo also applies to liquids, as in 'a kilo of cola' or 'a kilo of gin-tonic'. So, Kilo Gipsyska means : our own recipe, our own cocktail, and lots of it." Frontman Gregor Engelen : "On this album, more than ever, we play real gipsy ska. We're exploring our own genre, with more attention to details. That makes our music more varied and more accessible. It's a nice position, getting older and wiser, while our audience is getting younger and wilder."
The gipsyska madness, rudeboy vibes and Roma passion on Kilo Gipsyska reveal the sextet's respect for tradition as well as their sense of adventure. Kilo Gipsyska boasts two covers (the Greek-Arabic folk classic Misirlou, and Zvonja, a traditional with roots in Bosnia- Herzegovina) and eight original tracks, now sung mainly in English. "We had to take that step. We used to sing mostly in Romanes. We did this with the greatest respect, but few people in our audience really know that language, which is packed with emotion. From now on, more people will understand what we are singing."
Kilo Gipsyska was recorded in the Orkestra's own studio, with drummer Roel Poriau (Think of One) as producer. The mix was in the hands of Markus Darius Ghoreishian (Shantel) in Babylon Central, Frankfurt. The album features contributions by Marko 'King of the Balkan Brass' Markovic, gipsy guitarist Elvis Ametovski, toaster Clement 'Nerlock' Jahwed, percussionist Amel Serra Garcia (Zita Swoon Group), alto saxophonist Job Chajes (Amsterdam Klezmer Band) and singers Iris Berardocco (Jacquelines) and Nel Ponsaers (Golden Glows). "They all got into our groove in no time."
The European Commission invited Antwerp Gipsy-Ska Orkestra to play at the presentation of the Award for Roma Integration 2014. the band left a trail of scorched stages at home and abroad. Eastern Europe couldn't resist and the exhilerating Antwerp gipsy ska rocked Romania, the Chech Republic, Hungary (Sziget), Poland (support act for Peter Gabriel on Life Festival in former Auschwitz) and Russia (Voice of Nomads Festival in Ulan-Ude, Siberië).
Do we have followers ! "A band from Kosovo is performing our older albums. There's a band in Venezuela who named themselves after us. A ska band was formed in Armenia, under our influence. And a Japanese record dealer recently bought sixty of our LPs," Gregor is proud to say.
Supported by a video clip to the future radio hit Jolene, directed by Sam Verhaert, Kilo Gipsyska will be released in February 2015, followed by a tour in Belgium and the Netherlands.